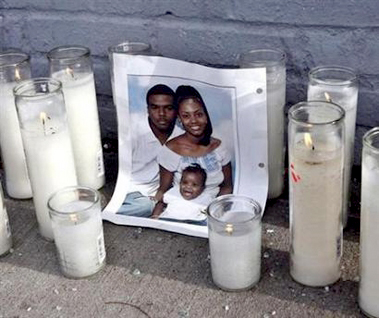 A Queens judge on Friday, April 25th 2008, 9 am EST acquitted three detectives charged in the shooting of Sean Bell, who died on his wedding day in a hail of 50 police bullets. He said that prosecutors had failed to prove their case and that wounded friends of the slain man had given testimony that he did not believe.
The top-to-bottom acquittals of Detectives Gescard F. Isnora, Michael Oliver and Marc Cooper were delivered by Justice Arthur J. Cooperman in an essay form bearing little resemblance to a standard jury verdict, and were met momentarily with silence in court as spectators looked at one another to be sure they had grasped what he was saying.
The detectives, all but obscured behind a human wall of courthouse officers, finally seemed to exhale deeply, even crumple, with relief. Detective Oliver — who reloaded his gun to fire a total of 31 shots and helped catapult the shooting from tragic mistake to a symbol, for many, of police abuse of force and poor training — closed his eyes and cried.
Except for a few scuffles outside the Queens Criminal Court building and shouted displays of disbelief and outrage, the day passed peacefully amid calls for calm delivered by the mayor, the police commissioner and other officials. Still, the Rev. Al Sharpton, a spokesman for the Bell family, called for street protests and said people should get themselves arrested, "whether it is on Wall Street, the judge's house or at 1 Police Plaza."